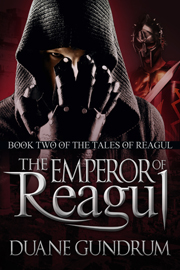 In the novel Destiny, the world of Reagul was introduced around Earth's 3000th year AD. It was a planet stuck in the middle ages, with wizardry and magic very much a part of its fabric. The new series, The Tales of Reagul, tells the story of how a series of villages during the Roman Empire were transported to a planet by a race of aliens who conduct sociological experiments on species. A few hundred years into their experiment, these aliens undergo a galactic war of their own and must abandon their subjects, leaving one of their Reagul citizens to watch over the planet for them. He is trained in all of their science and technology, becoming the first sorcerer or Reagul. His name is Sarbonn, and this is his story.
The first book A Season of Kings, tells the story of these people and their attempts to survive in this new land, discovering it to harbor many unexpected encounters, including people from earlier civilizations who had been abandoned on the planet years before, and the discovery that Sarbonn is not the first sorcerer, AND that the earlier sorcerers may not be benevolent.
The Emperor of Reagul involves the continued saga as Sarbonn becomes the sorcerer he was meant to be, his apprentices Walner and Chandlin grow up, and Reagul begins to discover that the best intentions involving sorcerers means little when it comes to power, greed and corruption. While A Season of Kings involved the birth of a new land, The Emperor of Reagul explores the darker side of this world as children do not always turn out the way their parents wish they could be. And sometimes the evil that was always there beneath the surface just might be waiting for its chance to rear its head again.
The Emperor of Reagul is to scheduled for release in late June of 2014. It will be followed up with The War of the Wizards.